He built our Prague data center from scratch. Now Petr Stepanek is its boss
He is in charge of everyday operation of the data center, taking care of customers and always thinking of innovation. Petr Stepanek is the company CFO and the director of Master DC Prague and he's been with us since the beginnings. Ten years on, he still enjoys working here. Read on to meet one of our important people.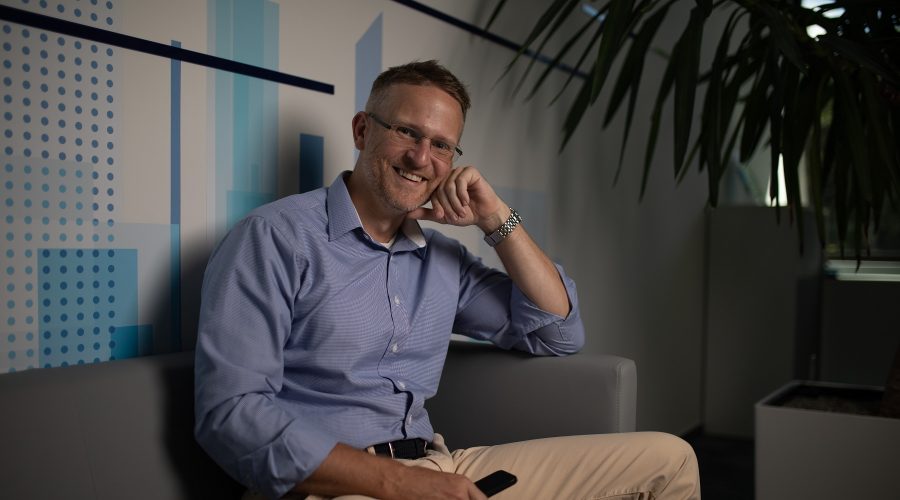 Today, Master DC has over seventy employees, six server halls, several thousand customers and two cloud platforms and is the largest Dell storage array customer in the Czech Republic. Last summer a new company division focusing on app development has been created. From a small serverhosting provider, Master DC grew up to be a key player in data center services. Were the beginnings difficult? Petr Stepanek recollects the times gone by.
It's been ten years since you joined Master DC. What was the state of the company back when you joined?
Ten years ago, all Master DC had was one oval table in Brno and a big vision that one executive, one technician, two coders, one accountant and one salesman tried to fulfil. If I were to slightly exaggerate I'd say the whole company could've fitted into a family car. I had experience working for T-Mobile and Ceske Radiokomunikace. Then this small company from Brno asked me to help them start their Prague branch.
Looking back, it was not at all easy. It's difficult to sell connectivity to regional internet providers, when your company is not based in these regions, it's difficult to sell server housing when you don't have the proper space ready and it's difficult to deal with partners when you don't even have your own office yet.
That couldn't have lasted long?
We rented our first office in Stimbuilding in the Zelivskeho Street. Soon after we started we started contacting regional IPs from Ceske Budejovice, Usti nad Labem, Plzen and Liberec – in large regional cities – and we provided them with our connectivity through rented routes. Back then the trading was in megabits and transit could cost even 10 EUR/Mbps. Today these numbers are hard to believe.
When we connected our first customers in the regions, we started to think about server housing. We moved our offices from a place where we couldn't build a server room to the TTC building in another district, the Prague 10.
I remember building the first server shelves and putting the very first customer server in. It's funny how big that room looked back then against this one puny server.The room looked way too big back then, but it soon was full of dozens of servers. Before we knew it, there were ore than five hundred of them. The cooling was having a hard time keeping up, there was not enough energy to go around, the capacity of our UPS was running out and still more customers were joining in…
Petr Štěpánek (37) tried his hand at almost every job at MasterDC. For at least a while he did the work of an assistant technician, a storekeeper, salesman, planner, site manager, support advisor and now he's a sales director.
He graduated from college focused on economics. He worked for T-Mobile and helped with kick-starting regional trading for Radiokomunikace. He's lived in the USA for a year. He joined MasterDC on the May 5th 2005 and is quite paradoxically the only Prague-born employee to work in the Prague data center. He enjoys sport, especially golf and skiing. Petr loves challenges and is a perfectionist.
Was it time to move again?
Exactly. And the next step was to build our own professional data center. We didn't want to rent premises anymore. We found a good place that was easy to reach, had more than one fibre connection from different directions that we further bolstered and it was place with enough energy to go around. We could use up to 2 megawatts, and that was a rare find. People often thought that I'm confused about my units – this much energy should be enough for a whole block of multistory houses! The air conditioning machinery could be spread over the whole roof and we even found a place for our – now three – diesel generators.
How much time did the moving itself take?
About a month. We first showed the now-ready premises to journalists and then we immediately started moving in. We had to shift over five hundred servers and to put the customer's racks in place. Looking back, I have to thank all of our customers for their loyalty, because throughout the whole process, none of them left us. And to our technicians, who took great care of every last server.
Has the data center changed since then?
Significantly. We were joined by other technicians, support people and sales representatives. We were then free to keep improving the data center and to follow the latest trends. We made cooling more effective by roofing over the cold aisles in server rooms, we laid down other energy cabling with its own transformer and an independent UPS. We added yet another server room.
All these technological advances helped us win a contract for T-Mobile that could then broaden its services portfolio with server housing, dedicated and managed servers and so on. Master was already running in compliance with ISO 9001 and 27001 and our customers started craving virtualization and cloud.
Our technicians built the cloud with such care that we soon became the Dell's only preferred partner for cloud solutions in the Czech Republic. Now, we have two cloud platforms and a third one is on its way. We offer VMware cloud, last year we launched a cloud based on OpenStack and we'll be offering a cloud with very high-availability based on the Hyper-V platform.
You have been loyal to the same company for over ten years. Is Master now close to your heart?
Definitely. I really enjoy my job and I think there's no better company that can do everything with servers. My position of sales director is perfectly supported by a very competent team of technicians and administrators. They can build anything we can come up with when dealing with our clients. They really have my gratitude.
And we keep on expanding and improving our services. We're planning to expand into other countries and we're always going to provide our IaaS partners with our infrastructure that runs their services. There are plans to build a modern office right next to the data center and we're also thinking about providing educational events with our partners in a large conference room.
And what's in the cards for Master in the year 2016?
We are currently putting the finishing touches on a project like no other on the Czech market. Our customers have really something to look forward too. I can't wait for this new project, I think of it as of my own child. Our colleagues in Brno will soon start to work on further improvements for our second cloud platform that will enhance our infrastructure cloud of the IaaS type with a PaaS (or Platform as a Service) cloud.