2020 in IT: Current Trends and Threats
IT technologies have a great future ahead which is also surrounded by many threats It is not so common for technologies to stay in the limelight for a long period of time. Usually they just become ordinary and create a building base for new ones. That is why predicting the state of IT even in a few years' time is not easy. However, with 2020 we are entering a decade that will partially fulfil our visions of the future.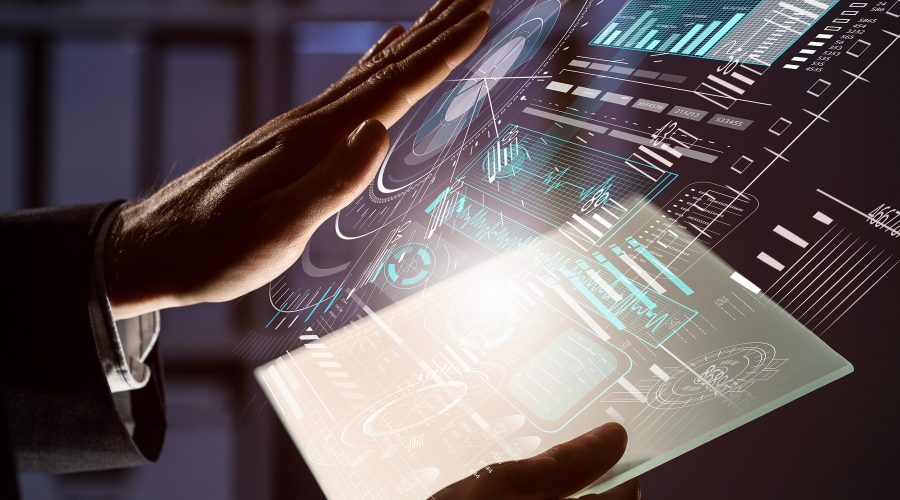 To stay in the business, companies and organisations will have to start to think about digital transformation. In 2023, according to analytics by the International Data Corporation (IDC), approximately 52 % of global GDP will be powered by digital infrastructure, i.e. companies that will exclusively use digital technologies for all business processes, such as sales, customer service, recruitment, internal communication and so on. This transformation in the way they operate will make companies more flexible in reacting to market changes.
The future of cloud computing
Cloud computing is an essential technology that will allow companies to make this digital transformation. Building your own data centres and infrastructures is expensive so it is usually only an option for large projects. On the other hand, cloud computing offers a solution for smaller businesses and projects, since it provides conditions they would not otherwise be able to afford. Investment in cloud hosting is lower and in some cases you can pay as you go, meaning you pay only for the data your project actually uses. Performance and capacity are flexible and can be customised to meet specific and current needs almost instantly.
Cloud hosting outsources routine operations such as storage and backups. In the case of a "managed cloud" you do not even have to worry about maintenance or updates. Your provider will take care of it, so you can fully concentrate on the development of your project. That is very advantageous for small organisations. However, it does not mean that huge projects should not migrate to the cloud. It suits whenever a number of people work on a project as the cloud makes data consistent and accessible to all team members. It also solves situations where several employees need to use one computationally demanding application – it is installed into the cloud and accessed by everyone form their own computer.
Working in the cloud is not only safe and adaptable to all kinds of situations, it also makes things easier, and offers high availability and performance. It has played a significant role in business development in the past few years and that will not change in 2020, especially because hardware continues to evolve, so the requirements for computing power grow as well. Since the performance of the cloud is still increasing, it is becoming an ideal solution.
Digital Transformation Expenditure in 2019
World regions' share of digital transformation expenditure in 2019
Cloud with high availability
At MasterDC you can create a perfect solution for your project or just choose from our pre-built configurations. Our cloud is built on the latest Dell technology and operated in our own data centres in Central Europe.
More about cloud
Lately there is another popular term associated with cloud computing called "distributed cloud". The host of a distributed cloud is still responsible for its operation, management and updates, but public cloud services are distributed to several locations outside of the data centre. It is actually a similar principle to how SaaS (Software as a Service) works. You don't have to buy the application, you just hire it from the provider, so you can easily run it over the Internet. A distributed cloud places computing power closer to where data is created – so it can be saved locally without a need to transfer it to a central data centre.
Hybrid cloud computing is also on the rise. It is the most popular solution chosen by customers of MasterDC. A hybrid cloud allows data sharing between public and private cloud, more flexible working, and the division of data according to sensitivity and security needs.
Augmented and virtual reality is used in healthcare and education
Augmented reality (AR) combines the physical world with digital elements which are easily recognisable from reality. The application Pokémon Go from the year 2006 is an example of this kind of software. While using this app you capture surroundings with a camera on your phone or other device, the app analyses the resulting images and based on the information it adds complementary data. However, it is not about the fun aspect all of the time. AR is also used in other areas. For example, this technology helps to create pictures of the brain in surgery or to provide an overview of altitude and speed for pilots wearing AR equipped helmets.
There are still discussions about the impact of augmented reality. The most controversial one is about the border between the real and digital world, especially after several accidents related to users of Pokémon Go. In addition, AR-based apps interfere with personal data, and therefore, threaten with potential leakages of information and also possible legislative problems.
Expected revenue of Augmented Reality by 2025 (Lumus Vision)
Video games – $11.6 billion
Healthcare – $5.1 billion
Engineering – $4.7 billion
Live Events – $4.1 billion
Video Entertainment – $3.2 billion
Real Estate – $2.6 billion
Retail – $1.6 billion
Military – $1.4 billion
Education – $7 million
There is huge potential in training, education, or even rehabilitation with virtual reality, i.e. an artificial environment created by special software which creates an impression of the real world by stimulating vision and hearing. Although it is still mostly popular with video game players, it also celebrates success in healthcare and there is already software called VirtualShip which is used for the training of US army personnel.
Virtual reality is not expanding as fast as AR. The hardware is only available in two variants and both have their disadvantages. Either you are connected to an omnidirectional platform that is expensive and in some ways restricts movement, or you are using smaller devices (such as goggles) that suffer from graphical deficiencies. This problem could be solved by the use of a 5G network whose transfer rate would allow devices to connect to a distant server or cloud.
Advanced goals of cyber criminals
Security in cyber space is a highly popular theme that is connected with almost every technology. It is not yet possible to ensure absolute security of all devices, and hackers have a wide range of tools and options when it comes to attacks. In 2020 the techniques used by hackers will only improve and become more sophisticated.
Cybercriminals are now very specific and they deliberately target particular victims who will pay the most for their data recovery. A programme that blocks a computer system or encrypts data for the purpose of blackmailing is called targeted ransomware. All attacks will become more sophisticated and will focus on whole infrastructures.
Kaspersky Lab released a more detailed overview of the future of cyber security last autumn, highlighting the increasing number of attacks without the use of malware. With the help of targeted network hardware such as VPNFilter or Slingshot it is possible to break into private network connections. By disrupting the encrypted VPN tunnel, attackers get access to all the information they need and gain more flexibility.
Perhaps the most disturbing aspect is the potential for the leakage of very sensitive information, such as biometric data, hitherto considered as one of the most effective ways to ensure protection. We should also be careful with video and voice recordings as these technologies put users and their data into the hands of the attackers, since it is useful for the creation of deepfake content which is becoming increasingly popular these days.
Cybersecurity is no longer just a matter of protecting personal information, industry or business. It also encroaches into some international conflicts. According to Kaspersky it is presumable that political espionage will evolve into technological espionage, which in turn creates a fine balance between what could be considered to be war or diplomacy.
A lot of small businesses have their own chatbot
The key thing for companies is to ensure a high level of customer interaction. Creating this kind of interaction can be expensive. Thus a lot of smaller businesses as well as enterprises are starting to use chatbots whose function is to simulate communication with people. Chatbots are definitely not a new thing in the field of technology, but over the years it has matured and become much more intelligent. Yet its potential still grows.
A combination of machine learning and natural language processing makes chatbots more intuitive and humanlike. Even speech is a common practice for them. They are able to manage about 85 % of communication with customers and typically are used in HR. There is speculation that in future at least a half of enterprises will invest more in chatbots than in mobile applications. And not in vain – allegedly it saves them up to 8 billion dollars annually in wages.
Most common use cases of chatbots
According to Intercom, chatbots are mostly used by sales.
It is not only chatbots but also autonomous vehicles and drones that threaten the existence of some existing jobs. All these technologies are based around artificial intelligence. Machines, unlike people, do not have to rest. Therefore artificial intelligence really can replace man in some situations. But at the same time, it also gives rise to completely new job opportunities. According to experts, there will be around 23 million jobs in artificial intelligence in 2020.
5G network still has pros and cons
After almost a decade of development, the 5G network has arrived and has already been rolled out to some areas. It offers higher speeds than any home broadband can provide, and promises the development of IoT devices and autonomous vehicles.
However, it also has some drawbacks. Its infrastructure needs to be denser due to the frequency of the signal – thus it becomes more expensive. The stability of the signal is still in question and there is a problem with its transmission through some materials. Despite this, by 2024 the 5G network should cover up to 40 % of the planet and support millions of devices per square kilometre. That's a huge difference compared to the thousands that 4G is able to manage.
26 billion IoT devices all around the world
There will be an average of four Internet of Things devices per person in 2020. By 2030 the figure will be up to 15 devices. Nowadays, smart home appliances and sensors on vehicles are very popular. In addition, all IoT devices can be connected to easily control temperature or humidity levels from a single device. At MasterDC we developed in cooperation with the IQRF Alliance the IoT Starter App, in which IoT developers can connect all of their devices and easily control them from their mobile phone.
Internet of Things devices are lately pretty common, and as their popularity continues to grow, so does the threat of information leakage and attacks. The big drawback of IoT devices is their security, which somehow is not a part of the original package. Therefore, if Internet of Things devices are supposed to remain a pleasant part of everyday life, we primarily need to work on their safety features – and thus protecting the data of their users.
Blockchain is not just a technology of cryptocurrency
The technology most associated with cryptocurrencies is the consensually managed and distributed database which chronologically records and organises an ever-growing number of transactions. It contains data that can be entered, but cannot be further manipulated, either from outside or from the peer-to-peer network nodes. This makes blockchain a very safe technology that has great potential in the security of IoT devices. It is already used for experimental and small projects and is estimated to be fully scalable by 2023. It is said that it could be a threat to the financial sector, but in fact, it is more likely that enterprises operating in financial sectors will be the ones who use it and benefit from it.
New technologies shape and will continue to shape the future of healthcare, education and industry. The number of applications and machines which are driven by artificial intelligence constantly increases, and automation as well as digitalisation are commonly involved in customer services and business processes. While some of the technologies are not yet fully developed (for example the 5G network, blockchain or virtual reality), they are still perceived as very promising by entrepreneurs and analysts. However, their relatively extensive penetration of everyday life exposes us to many cyberattacks, and we often forget about that. Brian Burke, vice president of research at Gartner, said at one of the assemblies that we should primarily think about the impacts that technology has on people and industry. Therefore, do not take cybersecurity lightly.