10 Google tricks that were out of your radar
Google is part of our daily life as public transport or the coffee machine, and sometimes that routine makes us stop seeing the funny and interesting Google side. Most people use Google search engine automatically as soon as they turn on the mobile or the computer but many are far away to know all its secrets. Take a look at these 10 Google tricks to make it funnier and entertaining. Note that most of the following tricks are just possible to do using Google Chrome. Sorry Safari lovers.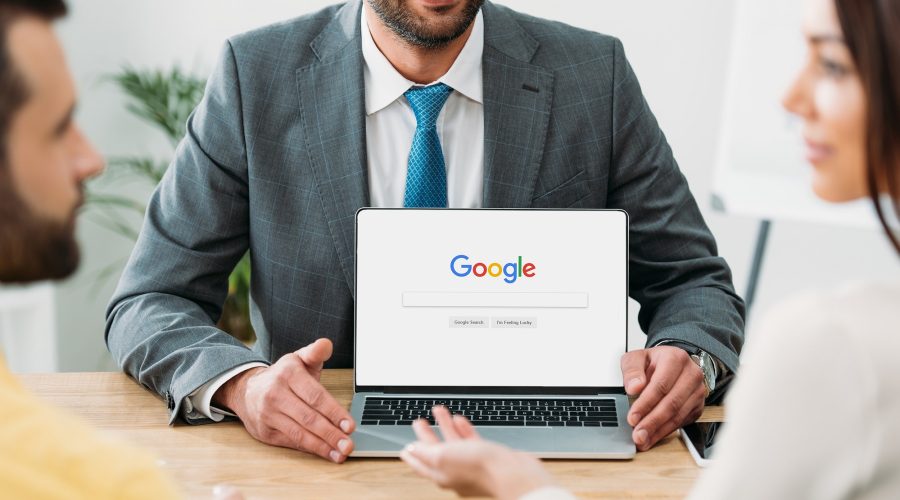 Google Klingon version
The Klingon language was developed by the artist Marc Okrand for the movie Star Trek. It is not a programming language to create special effects but the language used by the Klingon race in the film. Google decided to make its own Klingon version for all those who wish to go searching using this interstellar language. Just type Klingon Google and access Google´s alien version.
Google Pac-Man
In May of 2010 Pac-Man celebrated its 30th anniversary and Google decided to pay tribute to it by launching a Pac-Man doodle in which users could remember and play one of the oldest arcade games.
The popularity of the doodle was such big that Google decided to leave it permanently. So when you're bored in the office or you just want to distress, the great Pac-Man is there to get you out of the routine.
Zerg Rush
Type Zerg Rush in the search box and be ready to fight against an army of "o" letters because they will start eating the searching results on your screen. But not all is lost. You can fight this hungry army by shooting clicks at as many letters as you can. When your shooting is good enough, you can share your score with other Zerg Rush fans.
You will never find Chuck Norris
A funny situation happens when you type "find Chuck Norris" (without gaps).
Then Google will show you a page called nochucknorris.com. If you click on the website Google will give you back the next message:
"Google will not search for Chuck Norris because he knows you do not find Chuck Norris, I find you. Your search – Chuck Norris – did not match any documents"
All this together with some other funny suggestions to avoid Chuck Norris.
Replace Google logo with your name
Believe it or not, you can customize Google appearance with your own logo. How? With Goglogo, an online tool that allows you to replace the Google logo with any other name you want. You just need to select your preferred font and type any text you want. After this, you will notice how Google has personalized its appearance according to your wishes.
Do a Barrel Roll
Put Google upside down with one of the most popular Easter eggs. If you have activated the instant results function in the search engine, you only need to type "Do a Barrel Roll" and you will see how the search engine starts to spinning.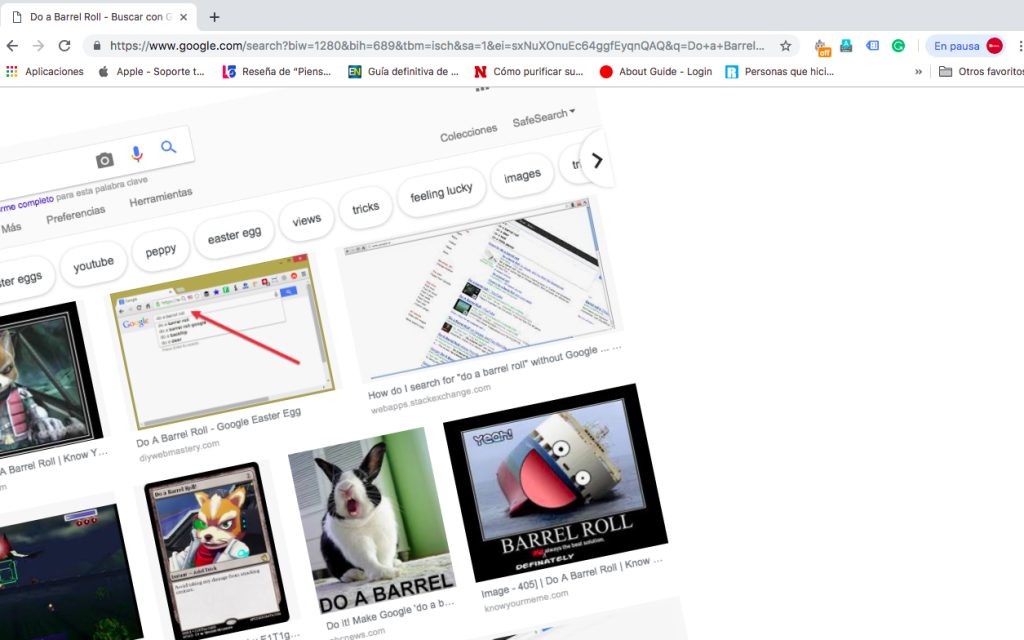 Do a barrel roll!
Askew
Google takes it seriously when you ask it to look for the term "askew". In addition to the meaning of the word, Google will return a tilted screen that will explain in a much more graphic way that word. Try it and get ready to go reading a little crooked.
The time machine
Are you curious to take a look at the earliest days of Google? You can check out the beta version of the most popular search engine by typing "google in 1998". Then click on the link Google Beta and you will be redirected to the nostalgic version of the search engine.
Track the sunset and the sunrise
Get to know the exact time when to expect the sunset and the sunrise according to any geographical location. Type "sunrise in" or "sunset in" followed by any location and Google will tell you everything. For instance, type "sunrise in Paris".
Currency conversion
Need to convert currencies? Google can help you with it. For example, if you want to covert 20 dollars to euros, type in the search box: 20 USD to EUR and you will get the desired conversion instantly according to the current value.
Google Timeline History
You do not remember where you were in March 2015? If you are a regular Google Maps user, this tool can help you remember at least the routes you took that day. Just enter Google Timeline History to clear your doubts. One more proof that Google knows everything about you.
Other cool search tools
There are numerous ways to make Google searches faster and more accurate. Simply enter special search commands for the search engine to do the work for you. Here are a number of cool search tools to save time searching.
Search a specific file type in Google: query + filetype: extension (e.g., Avira manual + filetype: pdf)
Find related websites: related: website.com (e.g., related: masterdc.com)
Scan the results of a single website: query + site:website.com (e.g., Mexico tips site:tripadvisor.com)
Find a specific phrase: use quotation marks to keep terms together (e.g., "Mayan calendar predict 2012 apocalypse")
Exclude terms with a dash: exclude a specific term from results by adding a dash (e.g., smart cars -Tesla)
Find anything using a site query: find and specific term or topic in a website through google ( e.g., site:facebook.com privacy settings)
Find linking URLs: Do you want to know which URLs link to your website? Do it with a link query (e.g., link:masterdc.com/url)
Take a look to your competitors or fin similar websites: an easy way to find similar websites to yours is easy with a related query (e.g., related:matadornetwork.com)