Managed IT Services For Healthcare: Solution For EuroPainClinics
At MasterDC, we design solutions for customers in a variety of industries. We are also no strangers to the healthcare segment. In fact, it is exactly the opposite. Read on to learn how we specifically helped the EuroPainClinics network of specialised pain management clinics.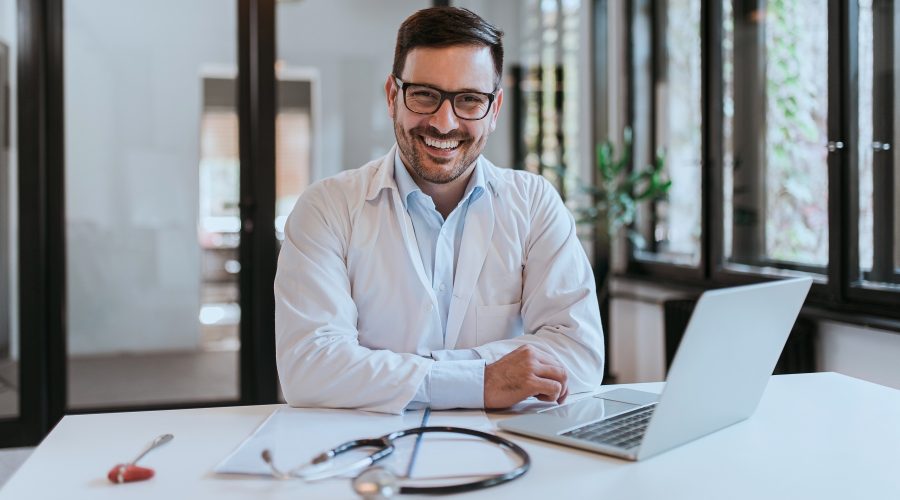 EuroPainClinics is a network of medical centres specialising in the interventional diagnosis and treatment of back and large joint pain. It operates in three countries and the Czech Republic, providing healthcare to patients at five locations – Prague, Pilsen, Brno, Ostrava, and Hradec Králové. They use a wide range of minimally invasive and endoscopic procedures in their treatment, and their specific focus makes them the only clinical facility of this type in the Czech Republic.
If you suffer from chronic back pain, you have probably heard of EuroPainClinics, and quite possibly, you have made an appointment through their website for their e-consultation service.
The customer (or patient) lifecycle starts on the web, and with some exaggeration, one could say the patients' steps then lead them through MasterDC. The EuroPainClinics web application currently runs from MasterDC data centres, and MasterDC administrators manage their cloud servers.
However, this was not always the case.
MasterDC's first experience with applications outside shared hosting was with a virtual server (VPS) at EuroPainClinics.
Customised IT Solutions
ICT in healthcare, and not only there, can have certain specifics – for example, the migration of servers during full operation. At MasterDC, we know how to do just that. Just let us know, and we will devise a customised solution for you.
I Want Customised Solution
Limits Of A VPS Server
A virtual private server initially fulfilled the customer's needs. Gradually, they moved all their applications to it, and an external company took care of the management.
However, then came growth.
Almost skyrocketing.
"We were expanding at the time. We opened two new clinics, and the number of patients increased by more than 50% year-on-year. So, the VPS server started to get small for us," says the IT Project Manager of EuroPainClinics, Matúš Gmitter. On the IT infrastructure side, this expansion started to show through lower performance and occasional web application crashes. In addition, the server was managed by a company that communicated with delays; sometimes, it could not handle the situation, and it was practically impossible to contact them outside regular working hours or even on weekends. "Which was critical for us because doctors at some of our clinics routinely perform procedures on weekends," explained Gmitter.
It Cannot Go On Like This…
The assignment for the new solution was clear. They needed a stable and secure infrastructure that could grow flexibly with the customer, and above all, was run and managed by a reliable MasterDC technical team available 24/7.
Therefore, the choice fell to a managed cloud server on the highly available VMware platform. Since the customer lacked a clear interface with their previous solution and everything had to be solved via the console, the new cloud server was equipped with an ISPmanager control panel. Thus, it allowed them to keep partial autonomy in setting parameters such as SSL, DNS, domains, and more.
"MasterDC's solution is helping us at EuroPainClinics to take the availability of specialist care for patients to a whole new level," says Gmitter.
Specifics Of ICT Migration In Healthcare
As mentioned, EuroPainClinics patients undergo surgeries even outside working days. Therefore, all data must be available to doctors whenever they need it. In addition, a weekend downtime of IT services (so common, for example, in the public service) was practically impossible at EuroPainClinics. As a result, MasterDC's technical team coordinated the migration plan with the customer to ensure that everything proceeded without downtime.
The first stage was to check the functionality of all processes and testing. This was followed by duplicating the applications and data to the new cloud server and continuously tuning the compatibility of the systems. PHP versions had to be updated, CRON task management had to be aligned, several extensions needed to be installed, and the ISPmanager was finally set up.
The entire process took several weeks and was handled by a dedicated administrator from MasterDC's technical team due to the personal relationship with the customer. The final part of the migration was completed fast and without any major complications.
The result? Higher speed, easy administration, and 24/7 support
Five months after the migration, it was time to undertake a review. What was the outcome?
The customer's web application ran without the slightest outage. The application was not only stable but also faster.
Advanced server monitoring was deployed, which monitors the functionality of individual tasks and SQL server updates.
Thanks to the intuitive control panel, the customer is autonomous in many tasks, which saves valuable time.
Connectivity has increased. This was most evident in the case of the Swedish clinic. Server responses to application requests were almost instantaneous.
Unlike the original supplier, technical support from MasterDC is available day and night
"As programmers, we didn't have much experience migrating such a robust system. With the help of MasterDC, we did it perfectly. We have since added a new server for our accounts department to run the Helios accounting system," concludes the customer's IT Project Manager.