KVM over IP
Last Update 11/11/2022
---
KVM over IP is an interface that can be connected from anywhere over the internet to access the device remotely. If a customer's server does not have an integrated KVM, it can use external devices that are available free of charge at both data centres.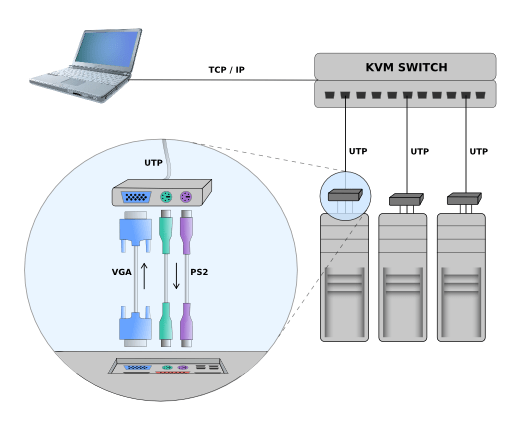 This connection method provides the same options as working directly with the machine. The device has a VGA + HDMI + USB input interface and an Ethernet output interface.
No operating system limits it. All the customer needs to connect is an internet connection.
Note: KVM over IP is a standard part of the service, and customers are not charged for its use.
Hardware Requirements
Computers: USB
Monitors: VGA, HDMI
Max. Resolution: 1280 x 1024 @75 Hz
Peripherals: USB Keyboard, USB Mouse
How to Connect
Contact our technical support and, after authorisation, request a KVM connection.
If another customer does not use the device, the support member connects the KVM over IP to the requested server, checks the functionality, and contacts you.
KVM runs on HTML5. So everything happens in the web browser. As hostname, we use, e.g., kvm[1-7].master.cz (Kovoterm, Brno), praha-4d-kvm[1-7].master.cz (4D, Praha); login and guest password are according to our technical support staff instructions.
To terminate the work, contact technical support, who will disconnect the KVM over IP device.