Status Page MasterDC: Information About Data Centre Element Conditions
---
The Status Page is a communication tool through which we inform our clients about all events that affect individual elements of our data centres' infrastructure, technologies, and customer services. The Status Page is available at https://status.master.cz/en/.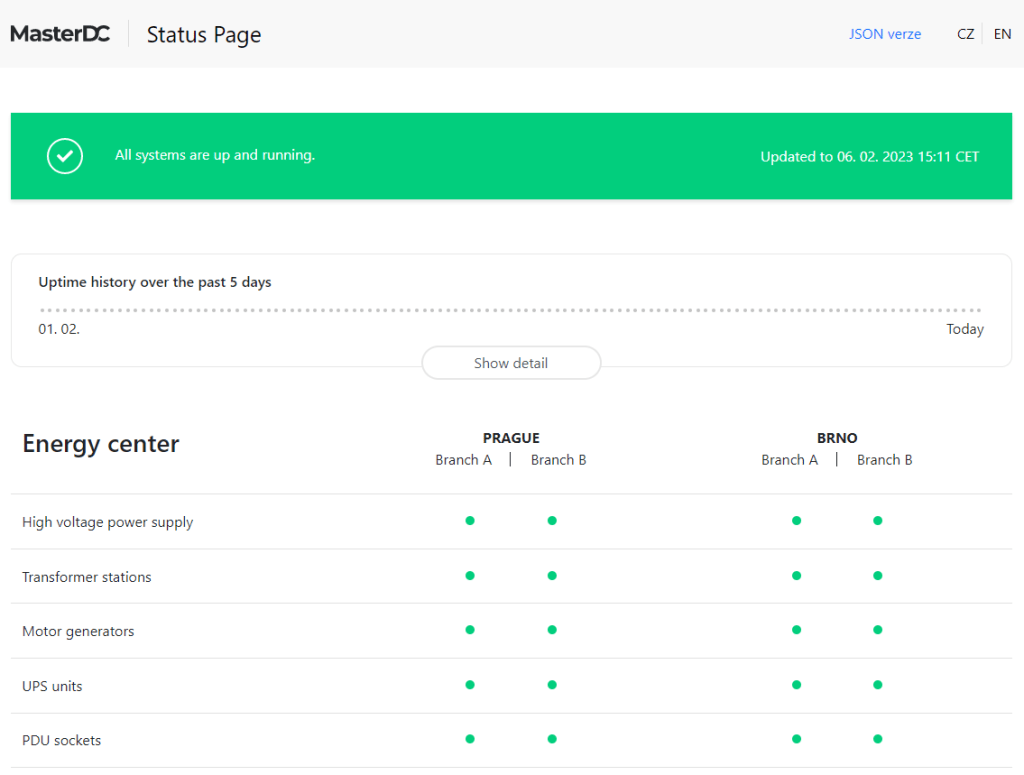 The information on the Status Page is divided according to the location of the data centre, i.e. Prague and Brno. Then, each element's status is described for each part of the infrastructure, such as the power centre and power branches A/B, connectivity, air conditioning systems, and cloud services.
The Nature Of The Information
On the Status Page, you will find information about ongoing incidents (unexpected events that have impacted the provided services), but also about planned service maintenance, inspections, or emergency interventions. We also distinguish four types of events, which are identified by coloured dots on the Status Page:
Green – The system is fully functional and operational.
Blue – Planned maintenance is in progress on the element.
Orange – A complication may affect some of the services.
Red – An outage related to an incident or scheduled maintenance.
An information box is displayed at the top of the Status Page for each event. The box further specifies the ongoing event, e.g., "Planned Motor-Generator Maintenance". However, in the case of scheduled service works, the maintenance end time will be shown; we will publish the expected repair time for emergency interventions.
The timeline also shows information about the MasterDC data centres' infrastructure status over the past five days. In addition, event details are available in the log for 48 hours prior via the Show detail button.
Notification Settings
A JSON version is available in the top right-hand corner, which can connect to external applications, such as Slack, to load data from the Status Page more easily. The JSON format also contains a code (status_code) for each of the statuses (status_name), where the following applies: green (code 1), blue (code 2), orange (code 3), and red (code 4). In the JSON version, the type, subtype, site, and subsite are static values, whereas the status_code, status_name, status_comment, start_time, and end_time are dynamic.
Other Information Channels
In addition to the Status Page, we regularly inform customers about planned work through messages primarily delivered to the Customer Administration system. The automatic forwarding of these messages to customer email addresses can be set up in the customer system:
Click on the customer's name in the top right-hand corner and select Edit profile.
Switch to the Other Information tab.
Next to the support password, you will find a list of checkboxes; choose the message types that should be forwarded to the email address provided in the General Info tab.
Submit your selection using the Save button.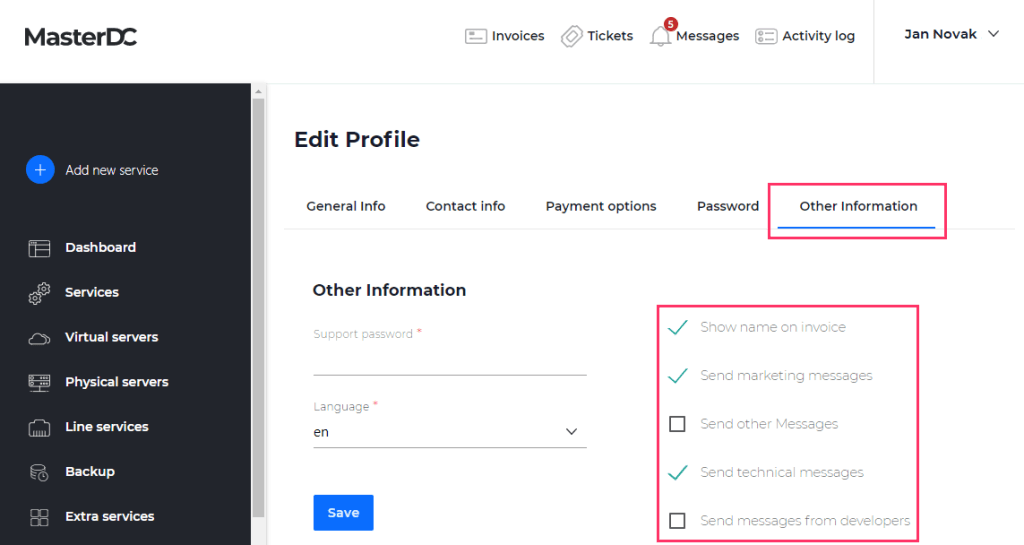 Information is also sent as a message to Customer Administration (i.e., email) during the event or immediately after an incident is resolved. In addition, the latest updates about ongoing events are also available on the MasterDC Twitter account.